Day One
St. Bees  – Honister Pass
Elevation Gain 2156M | Miles 27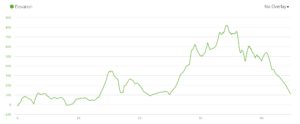 Starting from the shore of the Irish Sea at St. Bees Head (tradition has it you have to dip your toes in the sea before starting the C2C) you start the climb up onto the cliffs, this certainly gets the heart going and after about 10 minutes you start to think what the hell am I doing, I've not even covered a mile and i've got over 190+ to go.
The track at this point is pretty clear, carved into the landscape by thousands of pairs of walking boots (and maybe not as many pairs of running shoes) you follow it as it winds its way long the cliff tops, and then turns inland and onto a road which leads down eventually to the first sight of the lakelands and the inevitable climb up onto Dent Hill.
At the top of Dent Hill you get your first real glimpse of what lies ahead, mountains, fells and lots of them. Thoughts at this point are of just getting to Ennerdale Bridge (this is the first day done if you were walking the route) however this is the halfway point of day ones run and a chance to refuel.
As you set off from Ennerdale Bridge (there is the option here of running along the side of Ennerdale Water and taking the low route, but that's not an option when you've tackled the high route and seen the stunning views). The climb up over Great Borne is amazing and knowing you've still got Floutern Tarn, Red Pike Stile over to High Crag to mention a few and not forgetting Haystacks.
As you come down over Haystacks you're soon on the tracks over to Honister pass and the end of day one, a tough day with tougher to come after covering over 27 miles and having climbed the following peaks Great Borne – 616 metres, Starling Dodd – 633 metres, Red Pike – 755 metres, High Stile – 807 metres, High Crag – 744 metres and Haystacks – 597 metres.