Day Two
Honister Pass – Haweswater
Elevation Gain 2662M | Miles 29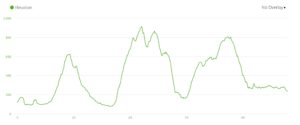 Day two takes you down into Seatoller then through the woods and eventually onto the climb up Greenup Edge passing Eagle Crag on your left, during this climb you'll come across a plaque embedded onto a large boulder it reads "This tablet was affixed by Douglas and Michael Boyle in Enduring memory of their friend and companion Gordon Hailworth, who died in peace under the shelter of this rock in the early hours of Sunday 8th January 1939" it's a stark reminder that the lakeland fells can be a harsh environment and should never be taken for granted.
During bad weather the climb up Greenup Gill waterfall can be treacherous, however on my reccy day the weather couldn't have been better and the views at the top are more than worth the climb.
Heading through Grasmere then towards Grisedale Tarn before the climb up Farifield and once again the views if you get the weather are stunning, the route then takes you down into Patterdale with equally amazing views as you come down steeply from Sunday Crag.
Continuing from Patterdale it's another climb up onto the fells, the run alongside Angle Tarn is a welcome break from the constant stomping up the rocky tracks. There's a quite a bit of runnable tracks from here and the descent from the beautiful Kirdsty Range to the track alongside Hawesewater Reservoir which although very runnable seems to go on and on for ever. The end of the reservoir marks the end of day two and by far the hardest day yet.