Day Five
Grinton Bridge – Ingleby Cross
Elevation Gain 364M | Miles 24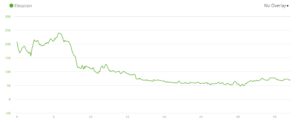 Heading out on day five from Grinton Bridge, you follow the river Swale for a while before starting to climb up and through some fields and past a place called Marrick, from here you wind your way upon through paved tunnel of tress, climbing quite harshly until you come to a field at the top. You pass a few working farms and more fields before starting your descent towards a town called Marske.
Before you actually reach the village you once again find yourself running through farmers walled fields, traversing stiles and squeezing through the odd wall stile. The route here again is pretty flat in comparison to where you've just run but this is soon broken by a large hill with flat top, another steep climb but well worth it for the views. Over fields and tracks for some miles before you can see the larger town of Richmond in the distance with it's castle standing proud.
Through Richmond the landscape once again changes as you run through forest glades along thin winding single tracks until you reach vast open fields with clearly visible tracks running through and around them. This is good easy running a total contrast to any early attempts at trying to keep a decent pace going, the fields seem to go on forever and if it's a hot sunny day, there's not much shade to be had apart from the occasional random tree in between miles and miles of hedgerows, until eventually reaching the end of day five.