Day Six
Ingleby Cross – Glaisdale
Elevation Gain 1147M | Miles 28.9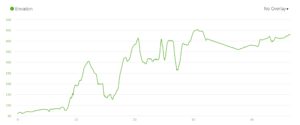 As you make your way through Ingleby cross you can see the hills starting to appear again in the distance. This part of the route is supposed to have some of the most stunning scenery according to previous walkers and runners. As you start to climb up the fire roads through the forest, the views do not disappoint, they are truly stunning and as you get higher up toward joining the 'Cleveland Way' they just get better and better.
Upon joining the Cleveland Way, you find yourself running along well defined tracks alongside walled fields before dropping down onto Scarth Wood Moor, a beautiful expanse of moorland with heavy paved tracks running across with distant views of the Cleveland Hills. You then drop down, cross a main road and then up again onto the moors with some short sharp climbs over hills that really get the blood pumping round especially the climb up to 'Wain Stones where the views from the top on a clear day are amazing. The tracks are really visible as they spread out in front of you over the moorland ahead, you need to have a good idea of your route at this point as it's easy to drift off and run along the wrong track. There's quite steep decent down from the moors with what feels like hundreds of stone steps to tackle on the way, at the bottom there's chance to catch your breath before heading off down some single track and onto the next climb back up onto the moorland.
With the Cleveland hills now behind you, it's time to tread the path of the old Farndale Railway line, which meanders and cuts across Farndale moor, it seems to go on and on forever, there are some great views of the moors and depending on the time of year the views are enhanced by a carpet of purple heather, eventually you start to climb up and over towards Blakey Howe reaching the Lion Inn, a good place again to take a breather before you head off towards Glaisdale, your goal for day six.