Day Four
Kirkby Steven – Grinton Bridge
Elevation Gain 1418M | Miles 29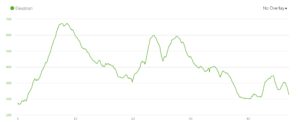 Click Elevation to open in new window
Leaving the lovely town of Kirkby Stephen you wind your way down a few little streets with some stunning picture postcard English cottages and over a small bridge where you're greeted with a signpost stating 'St Bees 82 miles and in the opposite direction Robin Hoods bay 108 miles' a reminder of just far you've still go to go.
After a steep climb, that's runnable and certainly gets the heart pounding, you can look back and see the whole town you've just started from. The run then takes you higher up onto the moors where you get your first view of the 'nine rigs'  a collection of strange towering cairns all lined up what seems to be a perfectly straight row. As you look around you realise that you're surrounded by moorland, once again he landscape has totally changed and it feels like you can see for miles. the run from here is quite flat and makes for some enjoyable running. You drop down quite a bit until you come to a track which takes you past a shooting lodge and then the landscape changes again to a more rollercoaster run with plenty of undulating tracks and trails with lots old abandoned farm buildings along the way.
You eventually end up in the tiny little village of Keld, a great place to take stock and grab some food before setting off again, climbing up and crossing the Pennine Way and onto the moors. Soon enough you're back onto a more defined track for some miles taking in the beauty of the moors you come to a large valley with the ruins of an 'Blakethwaite smelting mill' there's a plaque on the wall that makes for interesting reading and you can imagine it being a hive of activity all those years ago. As you run along the valley you start to climb back up onto the moors, a steep climb back to another track that eventually takes you past 'Old Gang lead smelting mill' and a series of reclaimed buildings and ruins, following the track it's not long before you're once again running over the moorland eventually making your way down to Grinton Bridge and the end of day four.